National Search Associates Receives Emergency Preparedness Certification
December 6, 2018 – In recognition of our First Responders and the desire to do our part in Emergency Preparedness, National Search Associates is excited to announce that our employees are fully certified to perform Basic Life Support, CPR and First Aid, including the use of automated external defibrillators (AED).
More than 15 employees answered the call to become certified. A class was administered specifically for National Search Associates by First Responder and 25-year veteran, Scott Illions and his team from CERT-CPR. Scott is a local Firefighter/Paramedic, member of the San Diego Mountain Rescue Team, and certified as an Instructor by the American Heart Association. Instruction included a combination of videos, simulations, and hands-on practice. Student comments included "If needed I'm glad we are prepared… certified even!" and "It was very helpful, I'm glad I attended."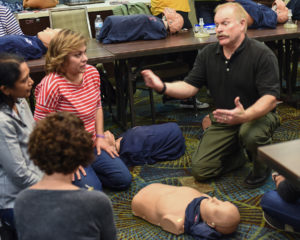 While safety always begins with prevention, not every injury can be prevented. Our primary emergency preparedness goal is to give our employees the necessary tools and information they need to care for an ill or injured person at home or in the workplace, during a simple accident or during a natural disaster, until advanced help arrives. We hope the knowledge and instruction we have received will be an asset to the community at large.